AELFRED, London's biggest showroom of vintage
London's biggest showroom of vintage Scandinavian furniture now open in Hackney Wick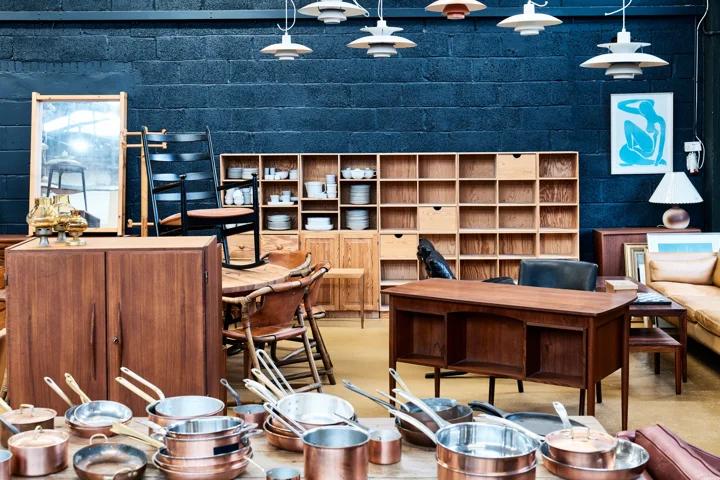 AELFRED, the largest showroom of Scandinavian mid-century furniture in London, recently opened in Hackney Wick with an impressive range of top-quality vintage pieces on sale to the public.
This industrial 300sq-metre space, perched next to a canal in East London, will feature a rolling supply of mid-century Danish, Swedish, Norwegian and Finnish furniture and home accessories.
Aelfred founder Nina Hertig says: "This vast showroom is going to be a fun way for customers to access great quality vintage Scandinavian pieces at fair prices. Pieces start at £15 and furniture will cost no more than £2500, so there is something for everyone. Rather than putting everything online, we want to celebrate the dying art of discovering treasures in real life."
The shop is cheekily named after King Aelfred, the King of the West Saxons who spent a great deal of his reign fending off the Vikings in the 9th Century.
This Aelfred, however, is more welcoming of all things Scandinavian. The curated fleamarket will be a destination for design deals, with an emphasis on fresh stock. There will be a constant flow of containers-full of carefully selected, second-hand furniture, cutlery, antiques, vases, accessories and glassware being delivered directly from the Nordic countries. ​
"Second-hand furniture is a sustainable way of shopping," Hertig says. "These products are so well made they have lasted for decades, and they have decades more left in them."
Aelfred, which is positioned right on the canal in Hackney Wick, is more than just a shopping destination: the showroom will also see the opening of a new Moro restaurant right next door, with the interior designed by Hertig's friends Nina Tolstrup and Jack Mama of Studiomama.
ABOUT NINA HERTIG
Nina Hertig co-founded Sigmar, an acclaimed interior design practice and gallery with a focus on original modernist furniture from Scandinavia and Central Europe. Since establishing Sigmar, Hertig (who is Danish) has worked on a selection of collaborations to create contemporary products that follow traditional methods of production and match the studio's approach to uncompromising craftspersonship and integrity in design.